As an Amazon Associate I earn from qualifying purchases.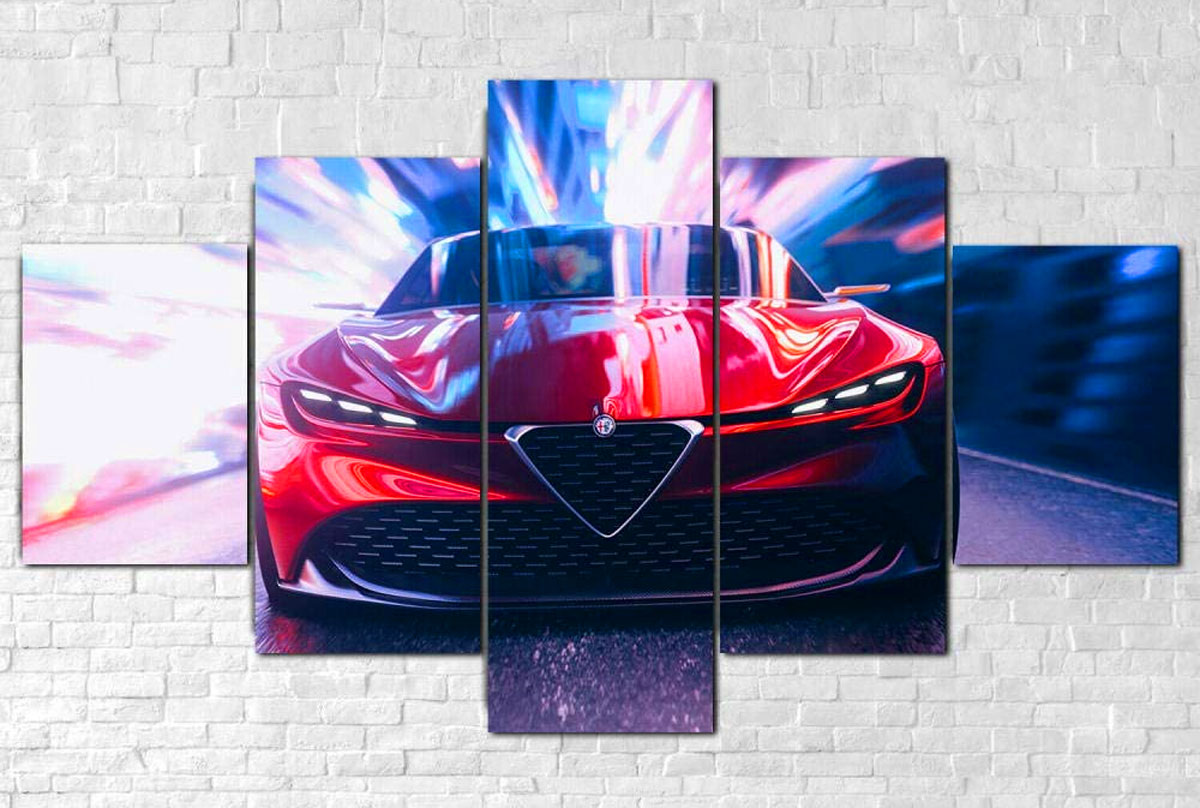 If you are looking for best gifts for Alfa Romeo owners, you don't have to despair. As an enthusiast, and an owner of several cars of this famous Italian car brand I can tell you that no matter what your choice is when it comes to gifts, it will be accepted with open hands. Alfa Romeo enthusiasts or Alfisti are a special group of people. They are arguably the most devoted automaker fans out there, and they protect the brand with all of their might.
Now, let's get going and pick the best gifts for Alfa Romeo lovers out there. The perfect gift for any Alfista would of course be the new Giulia or Stelvio, but since only a few can afford a gift like that, we're going to have to be a bit more modest, so I am going to start with apparel.
Apparel
Alfa Romeo Racing Replica Team Tee
We're going to start with one of the best Alfa Romeo tees. The reason for that is that this is a replica of the official Alfa Romeo racing team in Formula 1. While this might seem pricy for a tee, it is still only a replica. I actually have the original one which I got as a gift, and it costs almost triple the price of this one. However, the Alfista in your life won't probably know that this is not the original, of course, if you don't mention it. So, you can take all the credit for only a fraction of the price.
MNYAE Men Cool Hoodies Sweatshirt
If you need something for colder days, here's a perfect idea. It is an Alfa hoodie that will keep your Alfista a bit warmer during the cold winter months. While it might not seem special to you in any way, I can assure you that it will do the trick. It is black, it has a huge Alfa Romeo logo over it, and that is pretty much all it needs. All you have to worry about is the size.
Alfa Romeo Racing F1 Tribute Hat
If you are looking for a piece of apparel on the budget, I got you covered. It is the Alfa Romeo baseball hat, and it won't break the bank. There are numerous choices out there, but here's my favorite. It is a baseball hat with a massive Alfa logo over it, and a 4-leaf clover on the side which signifies the Alfa Romeo racing heritage. If you don't like this particular one you got a sea of them to choose from... Also, since the winter is harsh nowadays all around the US, an Alfa winter hat might be more suitable.
Wall art
Alfa Romeo Zagato Super CarWall Art Print
Now when it comes to wall art, there are so many fine choices that it took me hours to find the best, or in other words, the ones I would like for myself. Here is the best one in my opinion. It is the vision of the future Alfa Romeo model which is designed to perfection. It is the printing on the canvas which is separated into 5 pieces. It is a simply stunning piece of wall art that is definitely worthy of a place on our best gifts for Alfa Romeo owners list, and any Alfista would be ecstatic to have one.
MINSEOK Watercolor Car Posters Room Decor
Next, we got a wall poster which is a bit more manageable than our previous two choices. It is the representation of several Alfa Romeo Junior models from the past done in watercolor. It is very affordable, and simple, but still special in its own way. However, if you decide to go for it, you should definitely frame it, and it will make an amazing gift and a stunning piece of Alfa wall art.
Home King Alfa Romeo Flag Banner 3X5FT
If you are looking for something simpler, more durable, with the same impact, then this is the right choice. it is a 5 by 3 feet Alfa Romeo flag which is a perfect piece of wall art for a garage, or workspace. I own one of these, and the quality is great. it doesn't fade, and it doesn't stain easily due to its color. The best thing of all, it is very cheap, so you could buy several different options.
Accessories
Custom Car Floor Mats with Trunk mats Fit for Alfa Romeo Giulia Stelvio
As I mentioned in the beginning Alfisti love their rides. Because of that most of their cars are immaculate. You can actually contribute to this by buying custom floor mats for the Alfista in your life. All you got to do is figure out if they either drive Giulia or Stelvio. You got numerous color options, but the one that stuck with me are the black mats with red accents, they look great. These are high-quality mats and they will last for years to come.
Mophorn Carbon Fiber Rear Trunk Lip Spoiler Fit for 2017 Alfa Romeo Giulia
This next one is a bit extreme, and it will be only a viable option if you are buying for an Alfista that drives the Giulia. It is a carbon fiber rear trunk lip, and while it plays a role when it comes to aerodynamics, it also looks amazing. Before you decide to go for this one make sure that their ride doesn't already have one, although there can never be too many carbon-fiber spoilers.
Carbon Fiber Steering Wheel V Alfa Romeo Giulia Stelvio
We're continuing with carbon fiber accessories, and the one in question is the steering wheel trim. This one is more of a personal preference, so before you decide to make a purchase, make sure that you know the person you're buying it for well. The best thing about this gift is of course the fact that is made from carbon fiber, but also its price. It is considerably cheaper than the rear spoiler I listed above.
Literature
Alfa Romeo: From 1910 to the present
When it comes to Alfa Romeo literature you got some great choices that would make an ideal gift. I've picked three of my favorites, and the first one is the book which covers the incredible history of this Italian brand. More than 110 years of existence is quite impressive, especially in the automotive world, and this book covers most of the golden moments which marked the past. The wins, titles, significant races, and most importantly the models that made Alfa the brand it is today. It is simply a great gift any Alfa Romeo lover would appreciate.
ALFA ROMEO GIULIA WORKSHOP MANUAL 1962-1975 ALL MODELS
As someone who works on cars out of love, I can tell you that the right information can be as valuable as money at times. For that reason, I've decided to include this amazing book in our best gifts for Alfa Romeo owners list simply because it is that good. However, before you even consider it, keep in mind that it covers only the classic models from 1962 to 1975, so buying it for someone who doesn't own classic Alfa, or doesn't plan to own one, wouldn't make much sense.
Autodelta: Alfa Romeo Racing 1963-1983
Last but not least is the piece covering the Autodelta. Autodelta is the Alfa Romeo's racing department which made a significant mark during the golden years. This particular book covers all of the major victories, but also losses from 1963 to 1983, and it will take your recipient back to history through some amazing photographs as well as text which describe in detail most of those amazing moments.
Image source: Amazon Product Advertising API
Amazon and the Amazon logo are trademarks of Amazon.com, Inc, or its affiliates.
Last update on 2023-12-07 / Affiliate links / Images from Amazon Product Advertising API